Climatic Change – A lot has been said about it. Interestingly enough as much as people like to pretend to be aware of it, their limited knowledge of it gets evident in their actions. There always lingers tons of misinformation that acts as a catalyst to their actions towards affecting the environment.
These actions thereby cause immediate and long-lasting impacts on our habitat. The most evident examples of these include various species of both plants and animals going endangered, the extreme fluctuation in the temperature.
This is how we deal with Climate Change
Think about it this way, you are standing in the pouring rain. You have only one umbrella to protect you from the natural disaster. You would obviously want to protect it but instead, you are constantly creating holes in it, thereby making the situation even worse for yourself.
What's even interesting is the fact that this is being done by you, well knowing how badly it's going to affect you. But you keep fooling yourself that everything is under control and that the umbrella can still be mend. This is stupidly dangerous. Likewise, the damage that we are causing to our earth is so beyond fatal. The fact that the majority of people are still not aware of the intensity of this damage is far more threatening.
Who are the worst sufferers?
What's even worse is the fact that women are the worst sufferers of it. If you thought men and women are affected equally by the climatic change then you are utterly mistaken.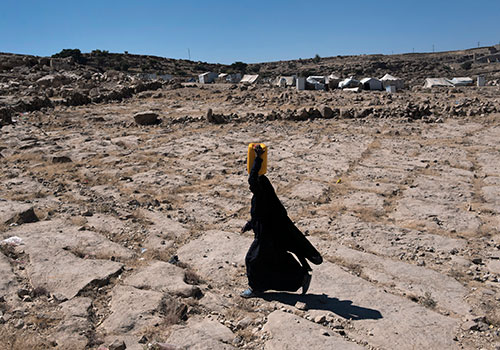 According to UN women are most vulnerable to climatic change. Around 70% of the world's poor consists of women. One of the several ways in which they are affected is in Agriculture.
Women are significantly responsible for resourcing fuel and water for cooking and other purposes. Extreme weather conditions are making it difficult for them to carry these tasks. Men, on the other hand, are migrating to different cities in search of jobs.
How it affects women more?
With the average number of inter-state migration being estimated to be around 9 million between 2011 and 2016; women are left with no other option but to work in the fields in addition to the work that they perform at their respective homes. Double the work, double the income right? Well, not for women.
Almost 80% of farmers consists of women these days. Evidently enough, whenever any agriculture crisis arises, women get majorly affected. In some areas, women even take extreme measures of removing their uterus lest they would be fired from their jobs.
Global warmings more than 2-degree Celsius could lead to extreme climatic events. This would further infuriate other natural disasters like floods, droughts, cyclones etc. In 1991 when cyclone hit Bangladesh which took the lives of around 140,000 people. An astounding 90% of them were women.
Also Read: Greta Thunberg: The Girl Who Shook The Entire World With Her UN Speech
Making issues of climate and gender change count
Several countries across the world have started recognizing the importance of involving both women and men in UNFCCC processes and in the implementation of the national climate policies "that are gender-responsive by establishing a dedicated agenda item under the convention" which would address the issues of climate and gender change.
Not only this, women know well about climatic adaptations and mitigations. However, there are factors which prevent them from taking up an active role in governmental decision making process. Some of those factors include; restricted land rights, limitation of access to various financial resources, technology and training.
A training programme for women
When there's a problem, solutions too come up in society. To ensure that women understand the effects of climate change, the UN has come up with unique training programs. Under its joint programme – "Promoting Gender-Responsive Approaches to Natural Resource Management for Peace", the UN has spent almost two years training women in the fields of farming, and natural resource management. This joint programme was first carried out in Sudan.
According to Silja Halle, the joint programme coordinator,
"It is the women who are left on the frontlines of both climate change and climate change-related conflict…Climate change is leading to shifts in livelihood patterns that are resulting in men either migrating away from the communities to find alternative employment or changing the migration patterns in such a way that women, instead of travelling with the men, now stay within the community."
The Need of the Hour
Women are closely related and highly involved in all these climates-related activities. Thus, it is extremely crucial for them to be educated about their roles in the preservations of natural resources. They should be even taught how to tackle the tiniest friction they face due to the lack of these resources.
Also Read: #Proud: Indian Army Removes 130 Tonnes of Waste From Siachen Glacier
For the latest news and other trending topics, follow us on Instagram, Facebook, and subscribe to our YouTube channel.