One of the most powerful and strong-willed women not only India but the world had; Indira Gandhi has left her astonishing mark with her path-breaking achievements and great leadership. Admired by almost everyone, she indeed exhibited her best to mold the country into her vision.
Indira Gandhi Was Born To Lead
Indira Gandhi whose full name was Indira Priyadarshini Gandhi was born in a small district of Allahabad on November 19, 1917. She died on October 31, 1984, in New Delhi. During her astonishing political journey, she has served as the Prime Minister of India for three consecutive terms (1966-77). It was only during her fourth term that she was assassinated in 1984.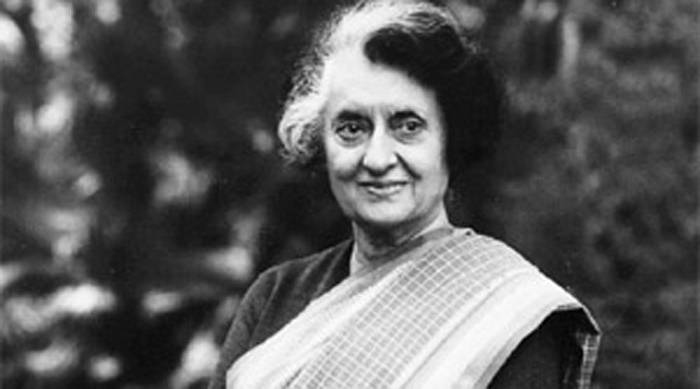 She was the sole child of Jawaharlal Nehru, who himself was prominent figures in helping India attain freedom. He was also the first Prime Minister of Independent India. Not only this. her grandfather Motilal Nehru was also one of the pioneers of the independence movement and was also an associate of Mahatma Gandhi.
This information is enough to highlight the fact that her grooming since childhood has been around several such illustrious personalities and historic movements. She is also called 'the daughter of struggle'.
Earlier Life
Talking about her earlier life, she got her education from Swiss schools and at Somerville College, Oxford. After marrying Feroze Gandhi on 26 March 1942, her life went into a rollercoaster ride. The two remained estranged from each other for much of their marriage.
The couple had two sons, Sanjay and Rajiv. After the demise of her mother, she used to accompany her father to various events and on his travels as well.
Beginning of a Political Journey
Indira Gandhi first became a member of the Congress Party's working committee in 1955. Soon after that in 1959, she was elected for the post of party president. In 1964, she was made a member of Rajya Sabha. And during the same year, Lal Bahadur Shastri had named her the Minister of Information and Broadcasting in his government.
Also Read: Another Life-Changing Revelation About Cows By A BJP Leader
After Shastri's sudden death in January 1966, she was named the leader of the congress party and also started her first term as the Prime Minister. Her leadership faced various challenges from the right-wing of the party.
However, in 1967 elections, she won a seat to the Lok Sabha, but the Congress party could only manage to win a slight majority of seats and Desai ended up becoming the Prime Minister. She imposed a state of emergency from 1975 to 1977 with suspended civil liberties that censored the press. She was also the second longest-serving PM of India.
Her journey traversed from the head of a political party to the head of a country. She was more than just the daughter of Jawaharlal Nehru. Most importantly, she is remembered for her role in the 1971 India-Pakistan war that eventually led to the formation of Bangladesh.
BJP veteran and former Prime Minister of India, Atal Bihari Vajpayee, has even described her as the 'Goddess Durga'.
Brutal Demise
In 1982, a large number of Sikhs, led by Sant Jarnail Singh Bhindranwale, occupied and fortified the Harmandir Sahib (Golden Temple) complex at Amritsar, the Sikhs' holiest shrine. This led to an increase in the tension between the Sikh community and the then government.
In June 1984, Indira Gandhi ordered the Indian army to attack and oust the separatists from the complex. Few of the buildings in the shrine were damaged badly and more than 450 Sikhs were killed.
Five months later, Indira Gandhi was killed in her garden in New Delhi. At about 9.20 am. on 31 October 1984, she was on her way to give an interview to British actor Peter Ustinov who at that time was filming a documentary for an Irish Television. She took several bullets which were fired by two of her own Sikh bodyguards as a revenge for the attack on the Amritsar.
The assailants had fired 33 bullets at her, of which 30 had hit; 23 had passed through her body, while seven remained inside. She was cremated on 3rd November near Raj Ghat at Shakti Sthal. She was succeeded as prime minister by her son Rajiv, who served until 1989.
The Aftermath
After death witnessed serious aftermath. Over the course of just four days, thousands of Sikhs were killed. The Justice Thakkar Commission of Inquiry, set up to probe Gandhi's assassination, recommended a separate probe for the conspiracy angle behind the assassination.
Also Read:Rajasthan: Thousands of Migratory Birds Die Mysteriously at the Sambhar Salt Lake
Nonetheless, glancing over her political and personal journey establishes the fact that she was indeed a woman of her words and charisma. Even though there were things that she did that often pushed her into the bad light at times, her remarkable achievements are clearly something that can never be overlooked.
Paying Her Tribute
On Tuesday, interim Congress president Sonia Gandhi and former Prime Minister Manmohan Singh paid tribute to late Prime Minister Indira Gandhi on her birth anniversary at Shakti Sthal in New Delhi.
"On her birth anniversary, we pay homage to India's first female Prime Minister, the Late Smt Indira Gandhi. Her will and determination led our country to great heights. Her contributions to India's national security, economy & foreign policy will always be cherished," Congress said in a tweet.
For the latest news and other trending topics, follow us on Instagram, Facebook, and subscribe to our YouTube channel.